Everyone who uses a vehicle on the road is required to keep it in a roadworthy condition. The roadworthiness is checked in the interests of road safety and the environment by the test we call the MOT.
The MOT looks at some important items on your car to see that it meets legal requirements when it is tested. You should be aware that the MOT certificate is not a guarantee of the general mechanical condition of a vehicle.
What is Included in the MOT test?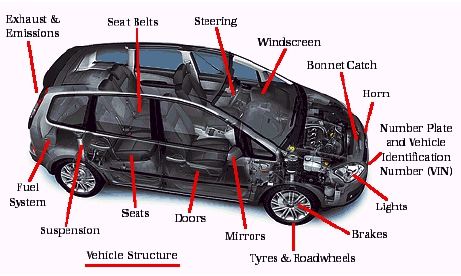 Vehicle structure:

Free from excessive corrosion or damage in specific areas, no sharp edges.

Fuel system:

No leaks. Cap fastens and seals securely. The fuel cap will need to be opened. Make sure the key is available.

Exhaust emissions:

Vehicle meets the requirements of exhaust emissions, dependant on the age and fuel type of the vehicle.

Exhaust system:

Secure, complete, without serious leaks and silences effectively.

Seat belts:

All the seat belts installed are checked for type, condition, operation, and security. All compulsory seat belts must be in place.

Seats:

Front seats secure. Front and rear backseats can be secured in the upright position.

Doors:

Open and close. Latch securely in closed position. Front doors should open from inside and outside the vehicle. rear doors may need to be opened to gain access to testable items.

Mirrors:

Prescence, condition, security.

Brakes:

Condition, operation and performance (efficiency test). Note the removal of road wheels is not part of the test.

Tyres and wheels:

Condition, security, tyre size / type and tread depth. Spare tyres are not inspected.

Registration plates:

Condition, security, digits correctly formed and spaced.

Lights:

Condition, operation, security, and correct colour. Also the headlamps will be checked to see if the aim is correct.

Bonnet:

Secures safely in the closed position.

Wipers / washers:

Operate to give the driver a clear view ahead.

Windscreen:

Condition and driver's view of the road.

Horn:

Correct operation and right type.

Steering and suspension:

Correct condition and operation.

Vehicle identification number:

Not more than one different identification number should be present on a vehicle first used on or after 1 August 1980
Where do I get an MOT?

There are around 19,000 garages approved as MOT test stations all over the country, which can carry out your MOT test.
The blue three triangles logo which they have to display identifies approved test stations.
The maximum fee for the test should be displayed on a poster inside every test station. A test station may charge less than this if they wish.
How are Vehicles Tested?
MOT test stations have designated test bays where they conduct the test, using a range of specialised equipment.

The standard test procedures are laid out in a manual which the test station should make available to you if you want to look at it.
If your vehicle has failed the test, you will be given a failure document with reference to this manual.
You can watch the test from a designated viewing area but you are not allowed to interrupt the tester while he is working.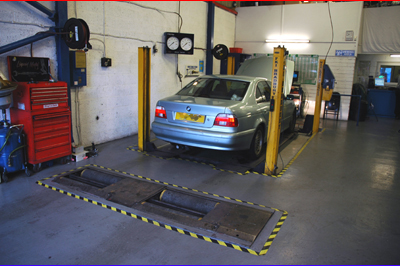 All MOT testers have been on a training course with the Vehicle and Operator Services Agency and their competence is checked regularly.
Who Supervises the scheme?
VOSA is the Govermnment Agency responsible for supervising the MOT scheme. It does this by:
Authorising MOT stations and nominated testers
Setting standards for testing and conditions of appointment for the test station andtesters.
Training authorised examiners and MOT testers.
Visiting garages on a regular basis and carrying out checks to ensure testing standards are maintained. This will include checking the testers' competence and maintainence of approved equipment.
Giving advice/taking disciplinary action wher tests are not being carried out to therequired standards.
Dealing with appeals and complaints from MOT customers.
What if I disagree with the test result?
Discuss it with the MOT test station if possible. Do not let anyone carry out repairs to the vehicle. If you think your car:-
Has been incorrectly failed:

Complete appeal form VT17 available from any MOT test station or ring our enquiry line, 0845 600 5977. You must complain within 14 working days of the test and VOSA will require a full test fee from you. VOSA will then offer an appointment within five days to re-check your vehicle. If your appeal is successful some or all of the test fees will be refunded to you.

Has been incorrectly passed:

Let VOSA know as soon as possible. Subject to acceptance for appeal VOSA will offer an appointment within five working days to re-examine your vehicle (without charge) provided:

Not more than 3 months has elapsed since the time of the test for a corrosion defect, or;
Up to 28 days for other defects.
The address fo your local Vehicle and Operator Services Agency (VOSA) office is displayed in the MOT test station or can be obtained from VOSA general enquiries unit on 0845 600 5977.
VOSA provide this service as a means of monitoring the MOT system and road standards generally.
VOSA cannot seek redress or compensation on your behalf - although it is open for you to take action in conjunction with your local trading standards department; take out proceedings personally or refer the matter to the Police.
VOSA can supply you with the inspection report listing any vehicle defects and advisory items following their check of the vehicle.
Any subsequent action which VOSA may decide to take against the testing station which tested your vehicle will be at VOSA discretion, and should have no bearing on any action you may decide to take.
What if you think the MOT certificate is not genuine?
Ring the MOT enquiry line number on 0845 600 5977. Calls are charged at the local rate.
If you have lost or damaged your test certificate
If you have lost or damaged your test certificate but know where and approximately when the vehicle was tested you can obtain a duplicate test certificate from the MOT test station which tested the vehicle.
If the test station has closed down the VOSA local office will be able to help. The maximum fee for a duplicate certificate is £10-00 or half the test fee if this is less.
If you do not know where the car was tested originally you cannot obtain a duplicate certificate. You will need to have the car tested again.
If you are unhappy with the service
If you are not satisfied with the way your test was conducted, please let VOSA know, as it helps them to make sure MOT stations are providing a good service.
Contact the Area Manager at your local VOSA office. The address is shown on the "Fees and Appeals" poster at your MOT test station, or you can ring the MOT enquiry line on 0845 600 5977.
Credit
The above article was taken from the MOT brochure issued by VOSA (Vehicle & Operator Services Agency) issued in May 2004.
The VOSA address is:-
VOSA
Berley House
Croydon Street
Bristol
BS5 0DA
www.vosa.gov.uk