General History
The Suzuki Motor Corporation has achieved International success by maintaining a policy of producing reliable quality products. This philosophy has certainly proved successful, as they have a Corporate history spanning more than 75 years.
With development starting in 1968, the first Suzuki 4x4 vehicle became available in 1970. It was a simple vehicle with zipped canvas doors, leaf springs, and only three seats, and was known as the Suzuki LJ. The Suzuki LJ series was undoubtedly the forerunner of the Suzuki SJ.
Suzuki LJ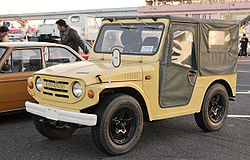 The Suzuki LJ originally began with a 359cc 2-stroke air-cooled engine providing around 25hp. This was fitted due to strict Japanese car regulations. The Suzuki LJ and SJ series are designed as "Kei Cars", as Japan was very strict on engine and vehicle sizes at the time.

The first LJ was the LJ10. This was a 3 seater vehicle with a top speed of 47mph.
2 years later, the LJ was updated and called the LJ20. This featured a more powerful 28hp water cooled engine, which allowed the LJ to reach up to 50mph. The grille was given a face lift and it was changed to a 4 seater for export models. 
In 1975, an newer model was made, and it was known as the LJ50. The LJ50 featured an updated 539cc engine, which was a 2-stroke 3-cylinder engine. The engine produced 26hp, but gave better torque and better emissions figures.
The export version had a higher power 33hp engine!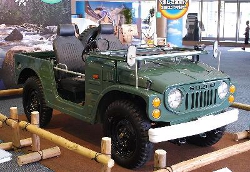 In 1977, Suzuki release the final revision of the LJ, called the LJ80. It was very similar to the LJ50, but featured a 797cc 4-stroke 4-cylinder SOHC engine producing up to 41hp!
Suzuki SJ
After more than a decade, Suzuki introduced the SJ410 (4wd, 1.0 litres)in 1982 and subsequently, the SJ413 (4wd, 1.3 litres).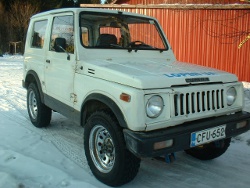 In the beginning of 1983 Suzuki saw a market for a LWB version of the SJ410. This they accomplished by stretching the wheelbase 13.5 inches and the overall body length by 23 inches. It was available in a number of models:- a convertible (4 or 6 seats), a raised-roof hardtop, a pickup, and a very rare 4-door hardtop.
In 1984, the SJ series received its first major update with the addition of an all-new aluminum 1324cc engine. The SJ410 and new SJ413 both received power front disc brakes, rear drum brakes, a new dashboard, a new seat design, and a different front grille.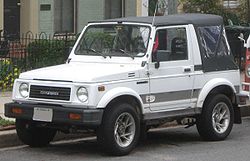 Not wanting to rest on their laurels, Suzuki planned to revise the then current SJ413. The first significant changes to the SJ413 came about in 1988. Softer springs and shocks were installed in an effort to improve the ride quality, and a larger front anti-sway bar was fitted to improve the handling on corners, and the dash was totally re-designed. The 5th gear ratio was reduced to improve motorway performance, and a new radiator, re-designed valve cover, and larger transfer case U-joint flanges were also introduced. A new 4-spoke steering wheel replaced the previous 3-spoke design, and more comfortable seats were fitted. The SJ413 was finished off with newer wheels and a slightly revised radiator grille. This new model was known as the Suzuki Samurai.
The Amazing Suzuki SJ
The Suzuki SJ 4x4 Samurai and Santana series simply offer a unique blend of economy, style, and fun, which make them, quite frankly, irresistible. Like most SWB 4x4 vehicles, the SJ series offer very little luggage space; in fact space is pretty much at a premium throughout the vehicle. The quality of ride comfort is poor and their engines are definitely underpowered.
Despite all of this, the SJ series do make for excellent urban runabouts, and the Soft Top versions offer exceptional open-air motoring in the warmer summer months.
Maybe this is one of the reasons that we are enthusiasts of this great little car!
What makes you an enthusiast of a car like this? My friend likes my SJ, but he is not an enthusiast. I guess the difference between us is that he likes the car, even though its slow and uncomfortable, whereas I love the car and see its slow and uncomfortable ride as a cute little thing, part of the cars incredible charm. This is without mentioning that the car is awesome fun off-road, it is tough, very tough, and capable of going places where Land Rovers would not dare. It's cheap to run and will take you miles on a gallon of fuel. It?s a fun car in the sun with the roof down and a safe car in the snow. This is how all cars should be, but only the little SJ carries it off. A real classic enthusiast's car.